When moving into a new build, you also get your NHBC Buildmark warranty which protects you from any issues that are due to faults in the design, workmanship or materials. In most cases, loft boarding is suitable and can be fit in various roof styles/types. It is also up to the customer how much of the loft is boarded.
Your NHBC warranty
Your NHBC warranty is in place to ensure the home's original builders are liable for any issues that may arise. Loft Boarding Scotland perfectly outline the details of what this entails.
"During the first 2 years after completion, your builder is responsible for rectifying any failures to meet the standard. So, you're protected if there are issues with the work the builder has done – such as leaky windows due to faulty seals.
During years 3 to 10 after completion, your NHBC warranty provides insurance for damage that is a direct result of such a failure. This covers major problems with the structure of the house – like foundations, external render, roofs, ceilings & chimneys."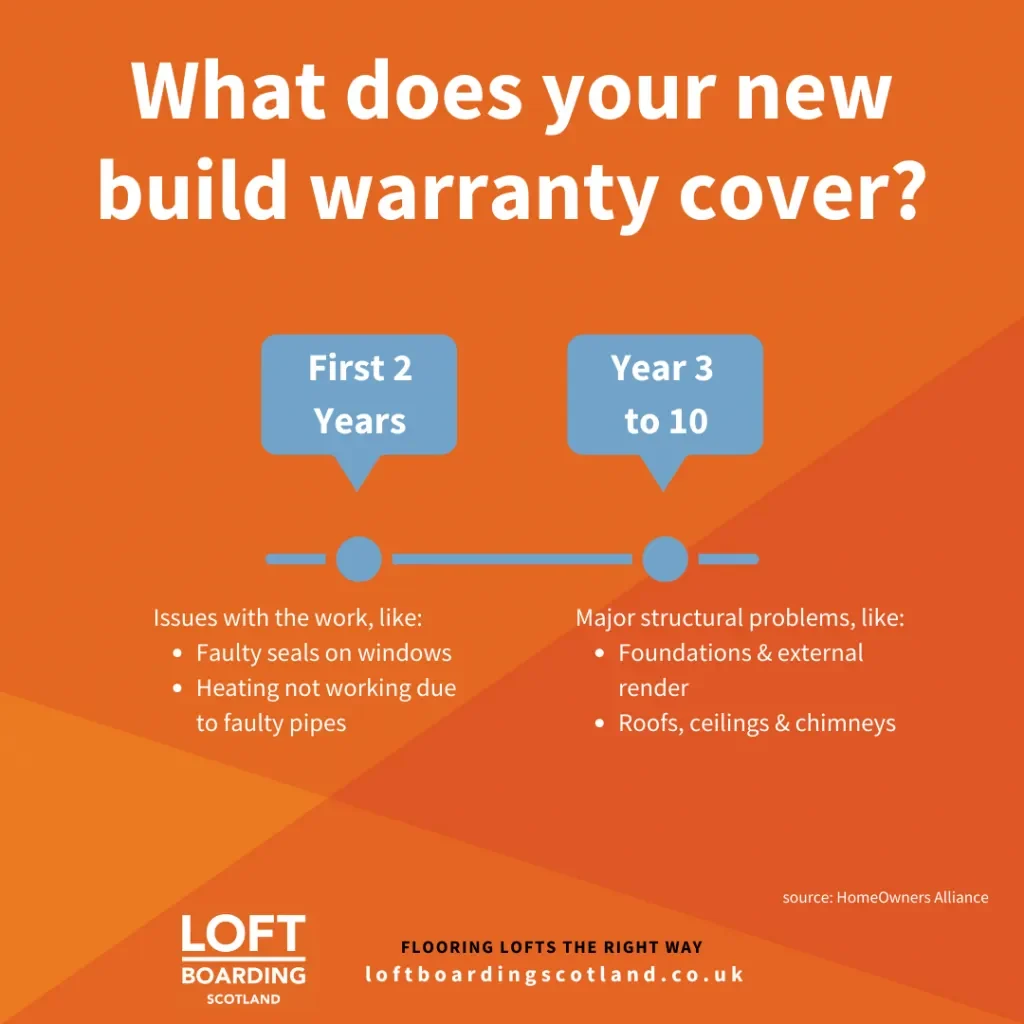 "This means that after the first two years, smaller repairs become your responsibility – like problems with your gutters or fixtures and fittings."
Boarding your loft
Some may decide that boarding their loft, creating further useable storage space, is the next step after moving in and getting settled.
In doing so, this doesn't void your NHBC warranty on your new build. NHBC has put in place that issues must be invested ahead of a claim, holding the responsible party liable. If the claim is against an issue which is regarding your home itself, which was in place when moving in, then this will be held against the original constructors.
Loft Boarding Scotland goes on to say; "So, if you have a problem with your house, the NHBC will first ascertain who caused the damage: Did the builder fail to meet the requirements? Or is it a result of something you have done to the property?
This means the question is not so much if boarding your loft voids your entire NHBC warranty. The question is if your builder can blame the damages they have caused on your loft boarding. (Or any other work you have done on your house, of course).
The answer is easy: Looking at the NHBC Buildmark policy, it would be difficult for the builder to blame loft boarding for any issue you have with your house. There is nothing in the text that gives the NHBC a blanket 'out' like this."
Confirmation of the warranty not being voided after loft boarding can be found within this email received from a Customer Experience Co-ordinator. This originated from a concerned party considering boarding their loft. We also have a customer who checked with Premier's guarantee. Loft boarding with a Premier warranty also won't be voided.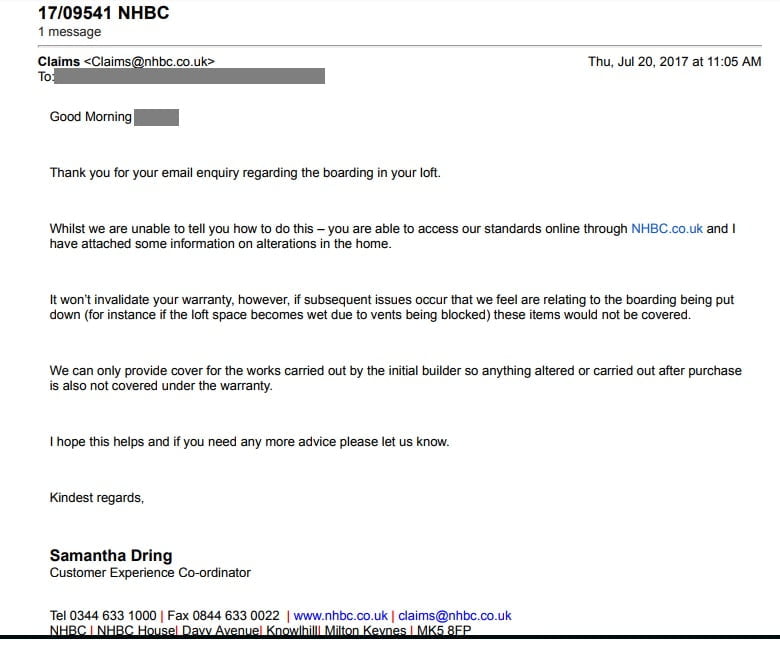 Ensuring you're covered
To be on the safe side and to ensure you keep hold of your NHBC warranty, Loft Boarding Scotland has kindly put together some recommendations. These ensure you're carrying out the loft boarding process 'by-the-book' and covering not only yourself but the work completed after the process has finished.
Use trusted traders

: Make sure all work is meeting

NHBC standards

by choosing competent contractors who are fully insured. Look for companies that are members of relevant trade associations like the

Federation of Master Builders

.

NHBC-approved loft boarding

: Choose a raised loft flooring system that meets NHBC standards and is industry-approved, like LoftZone. All you need to do is show the

BBA certificate

proving that, when installed correctly, LoftZone does not affect airflow because it leaves a suitable gap.

Follow regulations

: Keep to the regulations for the intended use of your floored loft. For example, LoftZone loft flooring allows for one person to walk on it plus up to 25kg of loading from stored items per square metre.

Within our own FAQ section on our website, we cover some points which you may be wondering about when starting the loft boarding journey.