Imagine having an incredible space created for your storage needs. You go to your new loft and suddenly there is a loose panel, and you fall right through, and you take a trip to A&E! How did this happen? Why was my loft not safe?
How Can I Create a Safe Loft?
The first question you need to ask is, 'How strong is my loft?'
The British Standard for modern truss-roof houses recommends that the loft floor itself should be able to hold a load of 25kg per square metre (e.g. of stored items). Many houses are much stronger than this, but that is the British Standard minimum. The loft must also be strong enough for a person(s) to freely manoeuvre across the floor to access anything that may need maintenance. This has been introduced as a new regulation in 2015, known as CDM 2015.
Our LoftZone StoreFloor raised loft boarding system has been designed to create a safe storage area in your loft. StoreFloor can hold an impressive 500kg per square meter due to its supports being made from strong engineering-grade recycled plastic. This makes it stronger than the joists of a typical loft. StoreFloor also acts as a lattice-beam, strengthening the joists below, too.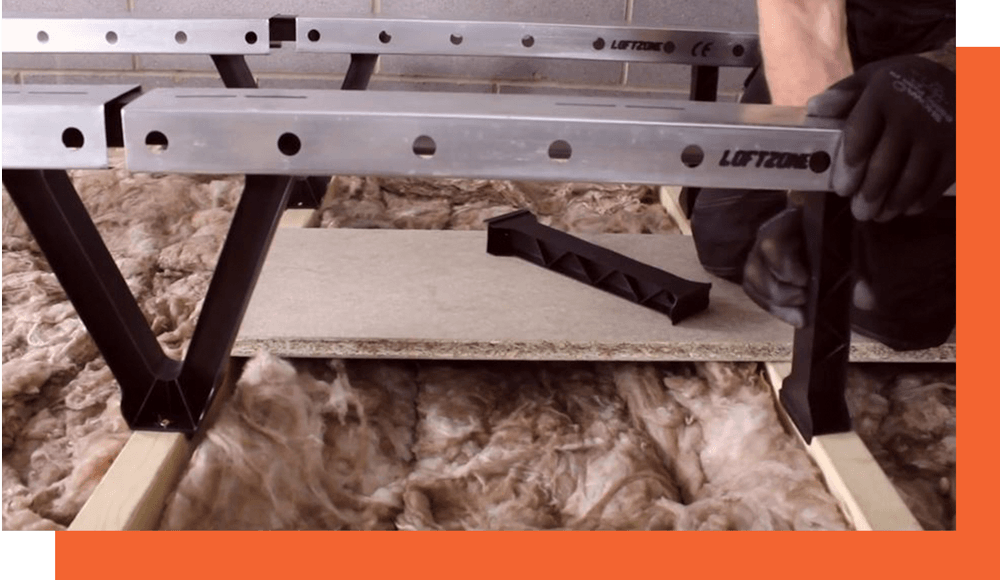 Our parts are designed to be extremely durable and strong. The Cross-Beams span over 3 or 4 joists, and they also have easy sliding adjustments in case the joists aren't evenly spaced.
Create a Strong Loft with LoftZone
StoreFloor is only intended for storage use. We recommend that you do not overload the joists otherwise they could bend and cause cracks in the ceiling below. It is very rare that the entire joist or floorboard will snap but, just be aware of how much weight you are placing in your loft.
If you have any questions or are unsure where your property falls within our standards, then contact us! We are always happy to advise you.