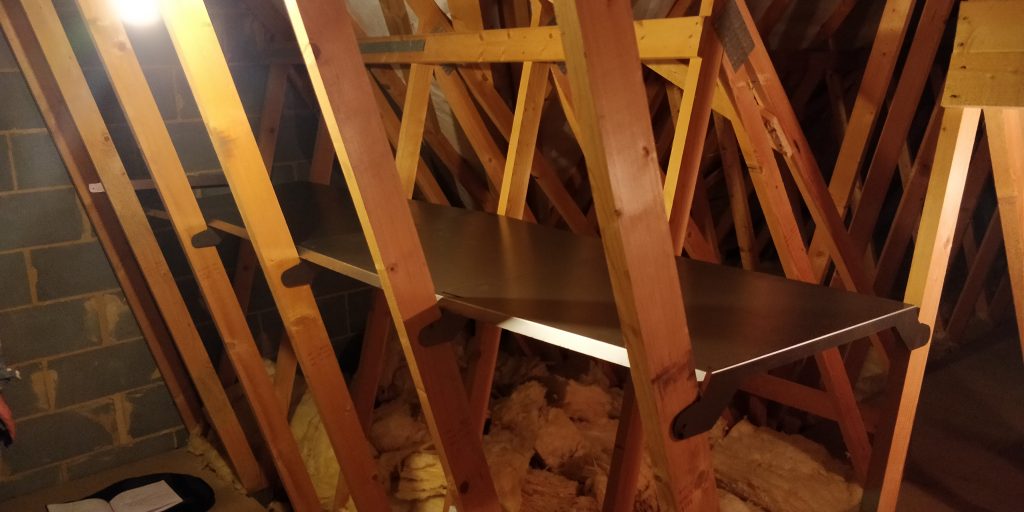 Ever wanted even more options to expand the storage capacity in your loft? We're passionate about finding solutions for storage in loft spaces. Thanks to the continued success of our StoreFloor product, we were inspired to take our storage solutions even further!
We're pleased to announce the launch of our new product, the LoftZone Steel TrussShelf, smart and easy to fit shelves for your loft.
We've specially designed our Steel TrussShelf to fit in trussed-roof lofts. These types of roofs are most common in UK homes built since the 1990s.
Simply place the shelf into position, it automatically finds the right level and then all you have to do is use the screws provided to fix it to your loft's trusses.
Create even more storage space in your loft, with space you didn't know you could use!
The Steel TrussShelf is suitable for any truss-roof loft, these are lofts with timbers that cross in a V or W-shape. The smart steel shelf panels can then be simply placed on these trusses to create more storage in your loft. The shelf finds its own level once lowered into place, then all you have to do is secure them in place with the screws provided.
What are the benefits of the new Steel TrussShelf?
Fast Install
The Steel TrussShelf is very easy and fast to install. Within minutes you can add more shelves – and more importantly, vital storage in your loft. Simply put the Steel TrussShelf in place in between the loft trusses, the Steel TrussShelf will find its own level when lowered into place. The Steel TrussShelf is also adjustable for those with unevenly spaced trusses in their lofts. Then secure the shelf in place with the screws provided.
Only a screwdriver is required
Thanks to the smart design of the Steel TrussShelf, the only thing you need to install it is a screwdriver. We even provide the screws!
Fully recyclable
The LoftZone Steel TrussShelf is made entirely from Steel. Meaning it can be fully recycled or repurposed. Helping the planet too!
Made in the UK
Our Truss shelving units are all manufactured in the UK adhereing to the highest standards and certifications to ensure that your shelving is strong, and most importantly reliable.
Interested in expanding the storage in your loft with the new Steel TrussShelf?
We're running a special launch offer – for the first 100 shelves only.
We will refund you half of your purchase price when you buy the new Steel TrussShelf from our online store and send us a review including photos and videos!
Visit our online store or view our Steel TrussShelf installation guide for more information.
Our team of loft experts are always happy to answer any questions or help you make the most out of your loft space. Give us a call on 01483 600 304, or drop us a message to sales@loftzone.co.uk.